The Fiji Islands are internationally recognized as being home to some of the world's finest tropical beaches, reefs and bio-diverse rain-forests - truly an unspoiled natural paradise. It is also the home of a natural artesian mineral with unique characteristics.
Aqua Pacific Natural Mineral Water begins its journey as precipitation in the remote mountains and hillsides of Nadi Highlands. Over several centuries the water filters through miles of prehistoric volcanic filters eventually accumulating in an underground "aquifer". An aquifer can be described as an underground reservoir. An "artesian" well is sourced from an aquifer that is literally completely enclosed and pressurized. The water that feeds it seeps in through small crevices and channels and when tapped this pressure will actually force it up to the surface under its own power. Aqua Pacific only extracts water from the artesian well within a sustainable level.
Aqua Pacific has collected several international accolades for its quality, and most recently won an International Taste Award in Brussels. It is now selected as the preferred Mineral Water by major Fijian holiday resort operators.
Aqua Pacific has 3D tropical label design, featuring local tropical Fijian Red, Green & Blue colored Parrot and butterflies over a tropical waterfall background Water. It is currently available in 330ml, 600ml, 1 ltr and 1.5 Ltr sizes.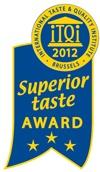 Aqua Pacific has collected several international accolades for its Taste & Quality, and most recently won International Taste & Quality Award in Brussels 3 years in a row to get Crystal Award