Agua de las misiones Gourmet Water Analysis:
Balance
Still & Light
Virginality
Very Good
Minerality
Low
Orientation
Neutral
Hardness
Slightly Hard
Vintage
 
Carbonation
Added
 
 
TDS
148 mg/l
ph factor
7.3
Hardness
40 mg/l
Nitrate
3.8 mg/l
Calcium
11 mg/l
Magnesium
3 mg/l
Sodium
20 mg/l
Potassium
1 mg/l
Silica
 
Bicarbonate
90 mg/l
Sulfate
4 mg/l
Chloride
26 mg/l

Agua de las misiones Gourmet is a Member of the Fine Water Society
| | |
| --- | --- |
| Source: | Spring |
| Location: |   |
| Country of Origin: | Argentina |
| Region: | Mesopotamia |
| Place: | Misiones |
| Established: | 2013 |
| Company: | Aguas Misioneras Sociedad del Estado |
| Status: | Active |
| Web Site: | www.aguasmisioneras.com |
| phone: | +54 376 4422884 |
| email: | This email address is being protected from spambots. You need JavaScript enabled to view it. |
| Social Media: |     |
"Agua de las misiones Gourmet" comes from Misiones Province in the Argentinian Mesopotamia, where one of the new natural wonders of the world – Iguazú Falls - is placed. Nature is especially rich in this area: virgin rain forests, rivers, streams, falls and cascades that host the largest biodiversity of the whole country.
The mineral water that allowed the development of 11 Jesuit-Guarani Missions of the Province in the 18th Century flows underground; the same water that still today provides vitality to the whole region. The area is also blessed by the waters from one of the biggest reservoirs of fresh water on the planet: the Guarani Aquifer System (GAS).
Because of its low nitrate and sodium content, Agua de las Misiones Gourmet provides additional wellness to consumers. The water is captured at 21.8 º C, bottled at source under stricts controls of safety and hygiene, arriving at the consumers´table without additives or preservative agents, just as pure as it offered by nature.
Agua de las misiones Gourmet is extracted from the Santa Maria well at depths of 114 m in an area of minimal human activity, which protects the aquifer from any kind of contamination originated in anthropic activities.
#FineWatersPairings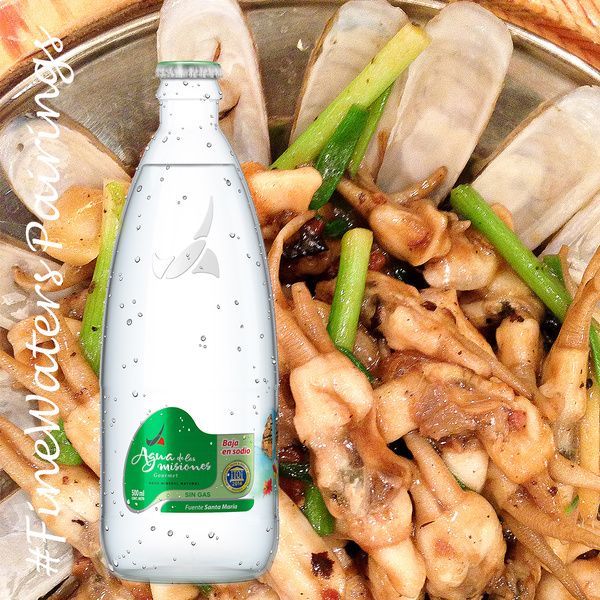 Razor clams stir fried with some soy sauce and a hint of sweet in this dish from Shanghai would match perfectly with a neutral Low Minerality water maybe even lightly sparkling like Agua de las misiones Gourmet in the glass presentation.
Awards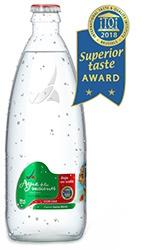 Agua de las misiones Gourmet (carbonated) was awarded the iTQi 2 Stars Gold Label for 2018