De l'Aubier Water Analysis:
| | |
| --- | --- |
| Balance | Still |
| Virginality | Superior |
| Minerality | Low |
| Orientation | Neutral |
| Hardness | Soft |
| Vintage | 1 Year |
| Carbonation |   |
|   |   |
| TDS | 250 mg/l |
| ph factor | 7.1 |
| Hardness | 14 mg/l |
| Nitrate | 1 mg/l |
| Calcium | 2 mg/l |
| Magnesium | 2 mg/l |
| Sodium | 2 mg/l |
| Potassium | 16 mg/l |
| Silica |   |
| Bicarbonate | 35 mg/l |
| Sulfate | 2 mg/l |
| Chloride | 7 mg/l |
| | |
| --- | --- |
| Source: | Maple Trees |
| Location: |   |
| Country of Origin: | Canada |
| Region: | Québec |
| Place: | Mirabel and Bromont |
| Established: | 2012 |
| Company: | Eau Matelo, Inc. |
| Status: | Active |
| Web Site: | www.delaubier.ca |
| phone: | +1 514 919 3328 |
| email: | This email address is being protected from spambots. You need JavaScript enabled to view it. |
| Social Media: |   |
It is an ancestral custom in the North East region of America, and more specifically in Québec, Canada to harvest the maple sap in the spring while the trees go through a natural osmosis process, pumping sap up from roots to branches during cold nights and flowing it back down during warmer days. A small incision is made in the sapwood ("aubier" in French) to collect a fraction of the sap while it flows down. One tree will provide in average 40 liters (10 US gallons) of sap in the 6 to 8 weeks harvesting period (March-April).
Sap is piped in food and beverage grade hoses from the trees to the maple farm. It is then divided in two streams by the usage of membrane filtration technology equipment already owned by the farms: the concentrated sap (15%) which is then reduced by boiling to maple syrup, and sap water (85%) which is typically discarded.
Eau Matelo realized the great beauty of this wasted natural resource and developed a patent pending process to capture, condition and bottle this specialty water stemmed from maple sap. The minerals contained in DE L'AUBIER are specific to its organic nature, and make for the unique gustatory sensation.
DE L'AUBIER celebrates the youth of its spring-like freshness and the vivacity of its green identity, the fact that it has been literally nurtured by nature over the previous seasons, such that each year, depending on geological, ecological and climatic conditions, the new vintage of DE L'AUBIER will invite epicureans to a renewed tasting experience, just like a wine.
#FineWatersPairings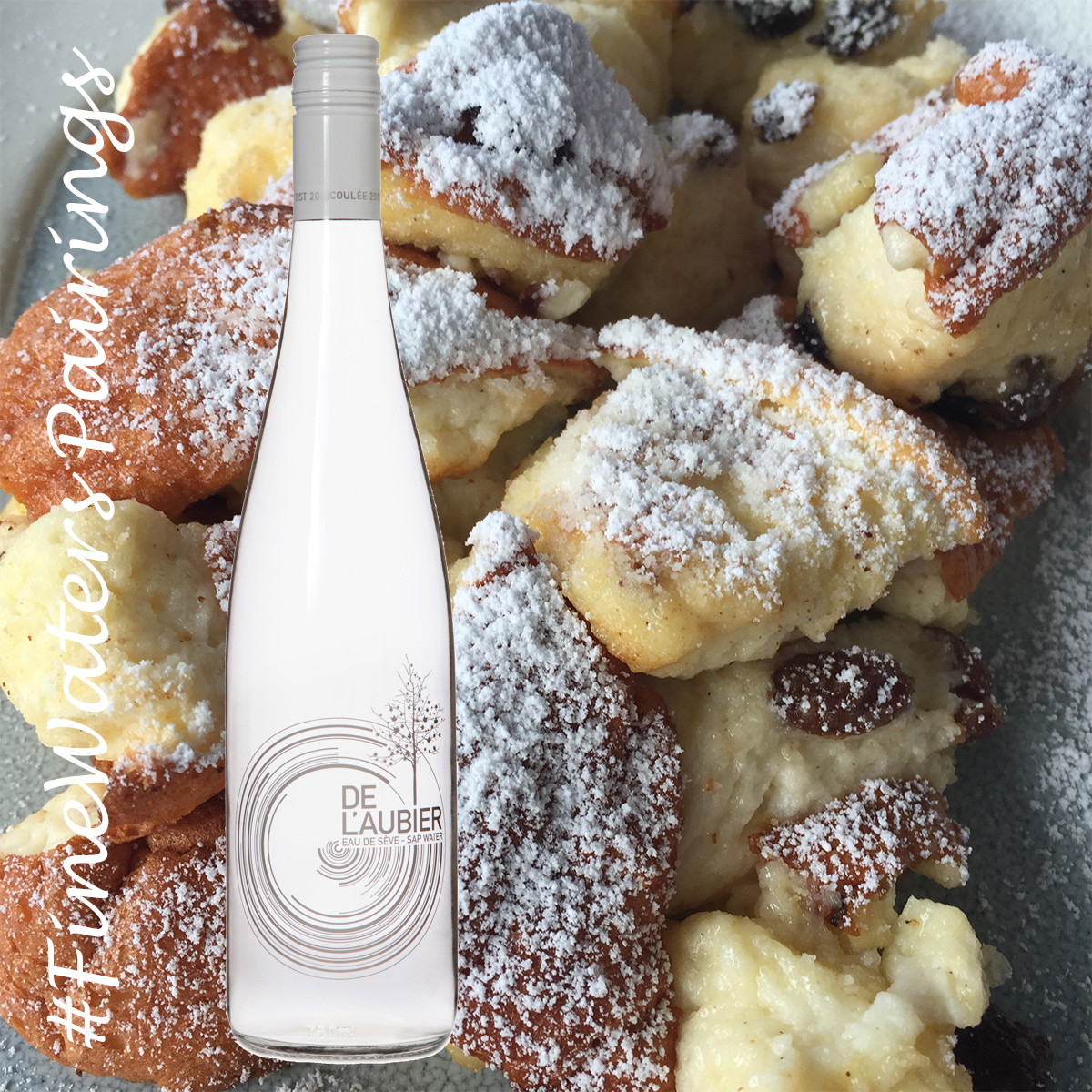 Kaiserschmarrn is a shredded pancake soufflé, which has its name from the Austrian emperor Kaiser Franz Joseph I, who was very fond of this kind of fluffy dessert. It is not overly sweet and has a creamy texture only interrupted by the caramelized bits that have been in contact with the butter and consumed with a tart prune kompot. My choice of water would be De l'Aubier a water from Maple Trees that shows a very soft and neutral characteristic.
Awards