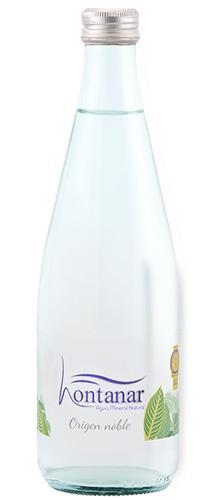 Hontanar Water Analysis:
Balance
Still
Virginality
 
Minerality
Super Low
Orientation
Neutral
Hardness
Soft
Vintage
 
Carbonation
 
 
 
TDS
12 mg/l
ph factor
6.9
Hardness
7 mg/l
Nitrate
 
Calcium
2 mg/l
Magnesium
1 mg/l
Sodium
4 mg/l
Potassium
1 mg/l
Silica
 
Bicarbonate
 
Sulfate
ND
Chloride
6 mg/l

Hontanar is a Member of the Fine Water Society
| | |
| --- | --- |
| Source: | Spring |
| Location: |   |
| Country of Origin: | Colombia |
| Region: | Caldas |
| Place: | Pensilvania |
| Established: | 2014 |
| Company: | Aquandina AME SAS |
| Status: | Active |
| Web Site: | hontanar.com.co |
| phone: | +57-3103036282 |
| email: | This email address is being protected from spambots. You need JavaScript enabled to view it. |
| Social Media: |      |
Bottled directly at its source, Hontanar Mineral Water is captured at an altitude of 2,100 meters, in the cloud forest of Pennsylvania, municipality of the department of Caldas in Colombia. This ecosystem is located in the foothills of the central mountain range of the Andes, a pristine territory of volcanic origin. The water filters naturally through the rocks, and they contribute minerals to the water emerging at the source.
The cloud forest where Hontanar is born has an area of 10,019 hectares, with an ecosystem of rain-forest. This ecosystem with difficult topographical conditions has meant that man's hand has not acted permanently, which has allowed its wealth to be preserved intact. This forest represents one of the last natural riches of the Andean region, its scenic beauty of canyons, mountains, rolling hills, dense and tangled vegetation; It is protected and conserved by Hontanar for the next generations, as part of its social responsibility objectives.
Aquandina AME SAS, the company that bottles Hontanar mineral water, was created at the beginning of 2014 in Pennsylvania Caldas, by three entrepreneurs. Motivated by the desire to contribute to the economic and social development of the region and the country as a whole. The project materialized thanks to the tenacity and the passion that was put in the project.
At the end of 2016, the Hontanar brand was launched. Today Hontanar means superior quality mineral water that is born in the cloud forest of the Andes Mountains, an example of social and environmental responsibility.
Awards
The quality of Hontanar Mineral Water is superior, in addition to having continuous internal and external physicochemical and microbiological analyzes, developed to verify the acceptability of the product, its taste and presentation have been evaluated by the Monde Selection Institute in Brussels, Belgium; and by the Agency for the Valorisation of Agricultural Products, AVPA in Paris, France. In the evaluations that the product has had, it has achieved:  

 
GOLD MEDAL
Best Gourmet Water AVPA
París, France 2019
GRAND GOLD AWARD
International Superiority Monde Selection Institute
Rome, Italy 2019  
GOLD AWARD
Superior quality
Monde Selection Institute Valencia, Spain 2018