Snåsa Water Analysis:
Balance
Still & Light
Virginality
Superior
Minerality
Super Low
Orientation
Neutral
Hardness
Slightly Hard
Vintage
 
Carbonation
 Added
 
 
TDS
47 mg/l
ph factor
6.7
Hardness
31 mg/l
Nitrate
0.09 mg/l
Calcium
10 mg/l
Magnesium
2 mg/l
Sodium
4 mg/l
Potassium
 < 1 mg/l
Fluoride
<0.05 mg/l
Bicarbonate
35 mg/l
Sulfate
4 mg/l
Chloride
5 mg/l

Snåsa is a Member of the Fine Water Society
| | |
| --- | --- |
| Source: | Spring |
| Location: |   |
| Country of Origin: | Norway |
| Region: | Trøndelag, Mid-Norway |
| Place: | Snåsa |
| Established: | 2011 |
| Company: | Snåsavann AS |
| Status: | Active |
| Web Site: | www.snasawater.com |
| phone: | +47 917 58 975 |
| email: | This email address is being protected from spambots. You need JavaScript enabled to view it. |
| Social Media: |   |
On the outskirts of Snåsa center, in Mid-Norway, safely located underground in a secluded pristine forest area, is the Snåsa water source. The source was approved by the Norwegian Food Safety Agency in 2013, and in January 2017 an efficient, robust and flexible production facility was completed.
Mohamed Sambou, a Belgian-Moroccan data engineer in a village not far from Norway's geographic center is the visionary behind Snåsa. He can get exited about water and he wants to share his source.
Not far away from the plant, just 400 meters, in a clearance in the woods, behind a homemade wooden barrier, at the end of a modest gravel road, there is a small and very humble gray wooden building. A simple gray strip after an airplane over the blue sky is all reminiscent of modern civilization. One could imagine an old twisted lady opening the door with a creak, peeking out of the dark, as in the fairytales. But it is this little house that hides the well.
"Although we have cold winters and hot summers here in Snåsa, the source keeps a constant temperature of 3.5 degrees year-round. The water has a pH of 6.7 and a unique low mineral content. The Snåsa water source can provide millions of gallons of water annually, without compromising the natural cycle of the area." He knows what he is talking about, Mohamed. Over the past years, he has become an expert on water. Countless small test wells have been drilled, countless drops tested in the laboratory. Countless meetings with hydro geologists, local politicians, investors and bureaucrats, to convince the skeptics of what Mohamed has always felt certain; that Snåsa has something unique to offer. 
Snåsa Natural Mineral Water is available in specially designed and unique glass and PET bottles. The bottle shape is geometric and pure, new in the category but timeless and archetypical.
#FineWatersPairings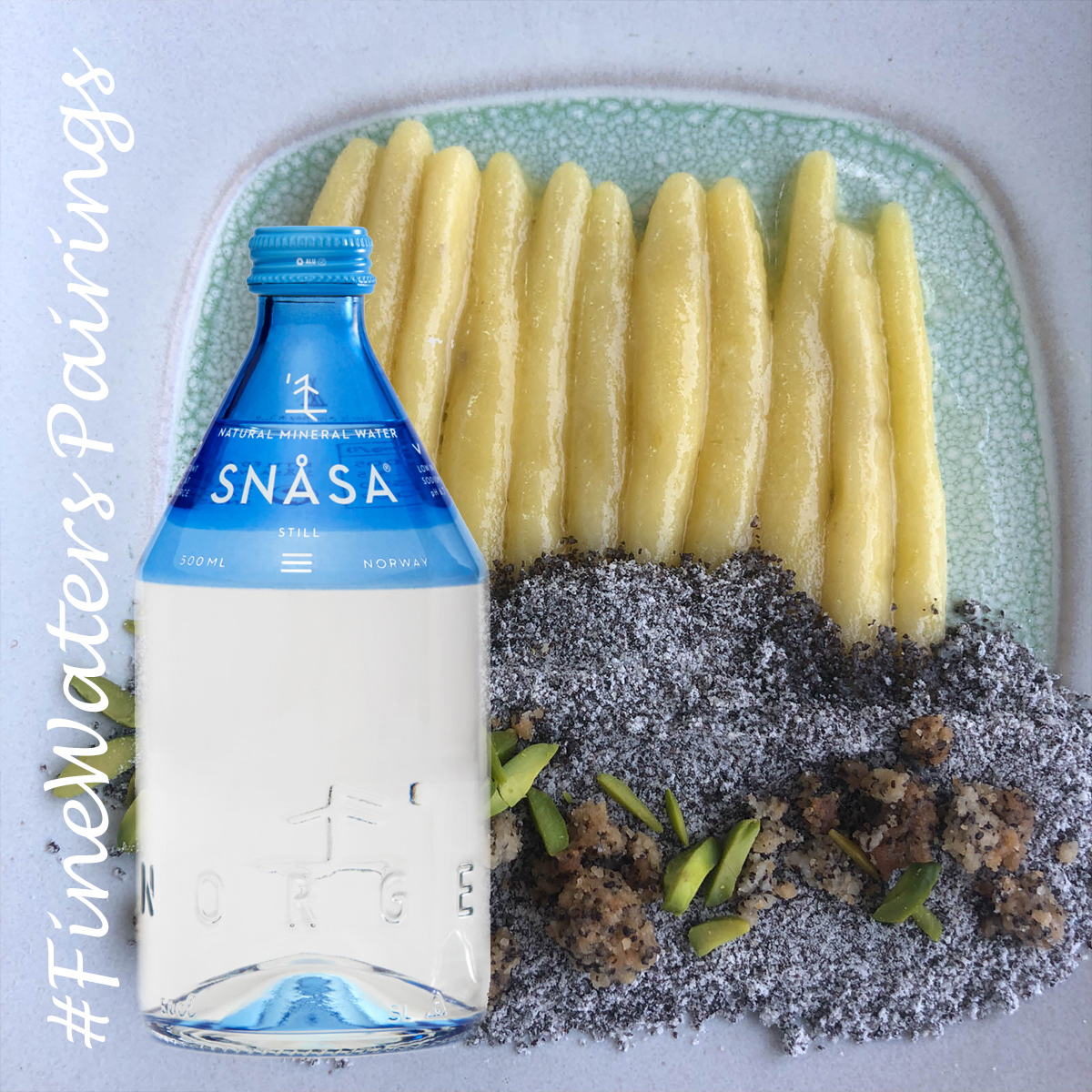 Mohnnudeln (poppy seed noodles) are a typical Austrian/Bohemian specialty and are eaten as a dessert or main course. The noodles are made of a potato/flour mix and covered in poppy seed that have been roasted in butter. The dish is not too sweet and is sometimes accompanied by a tart plum compote (Zwetschgenröster). Sweet and earthy tones from the poppy seeds require a very low minerality water and I think Snåsa from Norway would be perfect.
Awards
Silver in Pentawards 2018