Uludağ Premium Sparkling Natural Mineral Water Analysis:
Balance
Effervescent
Virginality
Superior
Minerality
Very High
Orientation
Acidic
Hardness
Very Hard
Vintage
 
Carbonation
Added
 
 
TDS
1,843 mg/l
ph factor
5.9
Hardness
649 mg/l
Nitrate
0.58 mg/l
Calcium
153 mg/l
Magnesium
79 mg/l
Sodium
185 mg/l
Potassium
28 mg/l
Silica
 
Bicarbonate
1,281 mg/l
Sulfate
18 mg/l
Chloride
55 mg/l

Uludağ Premium Sparkling Natural Mineral Water is a Member of the Fine Water Society
| | |
| --- | --- |
| Source: | Spring |
| Location: |   |
| Country of Origin: | Turkey |
| Region: | Marmara Region, Anatolia |
| Place: | Çaybaşı, Mount Uludağ |
| Established: | 1912 |
| Company: | Uludag Mineral Water, Turkish Inc |
| Status: | Active |
| Web Site: | www.uludagicecek.com.tr |
| phone: | +90 212 249 82 19 |
| email: | This email address is being protected from spambots. You need JavaScript enabled to view it. |
| Social Media: |    |
Uludağ Sparkling Natural Mineral Water is bottled at the same source since 1912, located in the Çaybaşı Village of Mount Uludağ, at an altitude of 2,543 meters.
Since that day, millions of people have been drinking Uludağ Sparkling Natural Mineral Waterr. Rich in calcium (strengthens bones), magnesium (beneficial for the heart and blood vessels), bicarbonate (aids the stomach and digestive system) and fluoride (strengthens teeth), Uludağ Sparkling Natural Mineral Water has a balanced and beneficial composition of minerals.
The mountain at the source was called Olympos in 500 BC and Keşiş Dağı in 1300 AC, Mount Uludağ begun to be called with its current name in 1925.
Uludağ Sparkling Natural Mineral Water originates from an alluvial cover enriched with crystalline schist and magnetic roots, and the geological structure of the area is called the "Mount Uludağ complex".
The water comes in an outstanding cobalt blue glass bottle and with an easy twist off cap. The bottle was designed by world famous Ece & Ayşe Ege of Dice Kayek, an internationally renowned Turkish fashion design firm.
The source for Uludağ Sparkling Natural Mineral Water - then called Keşiş Mountain mineral water - was purchased by İbrahim Talat Bey and Monsieur Brune on July 6, 1870. The company received its operating license from Sultan Mehmet Reşat Han at the Dolmabahçe Palace on May 26, 1912. During those years, partners of the Keşiş Mountain Mineral Water business included Sıtkı Bey (Ulusu) from Crete, and Monsieur Bourousine, to whom Monsieur Brune transferred his shares in 1890. In the 1920's, following the death of İbrahim Talat Paşa, his shares were transferred to his wife Şerife Hanife Güzide and the Italian investor Guido Parodi. Around this time, French investor Monsieur Bourousine's shares were also transferred to partners.
#FineWatersPairings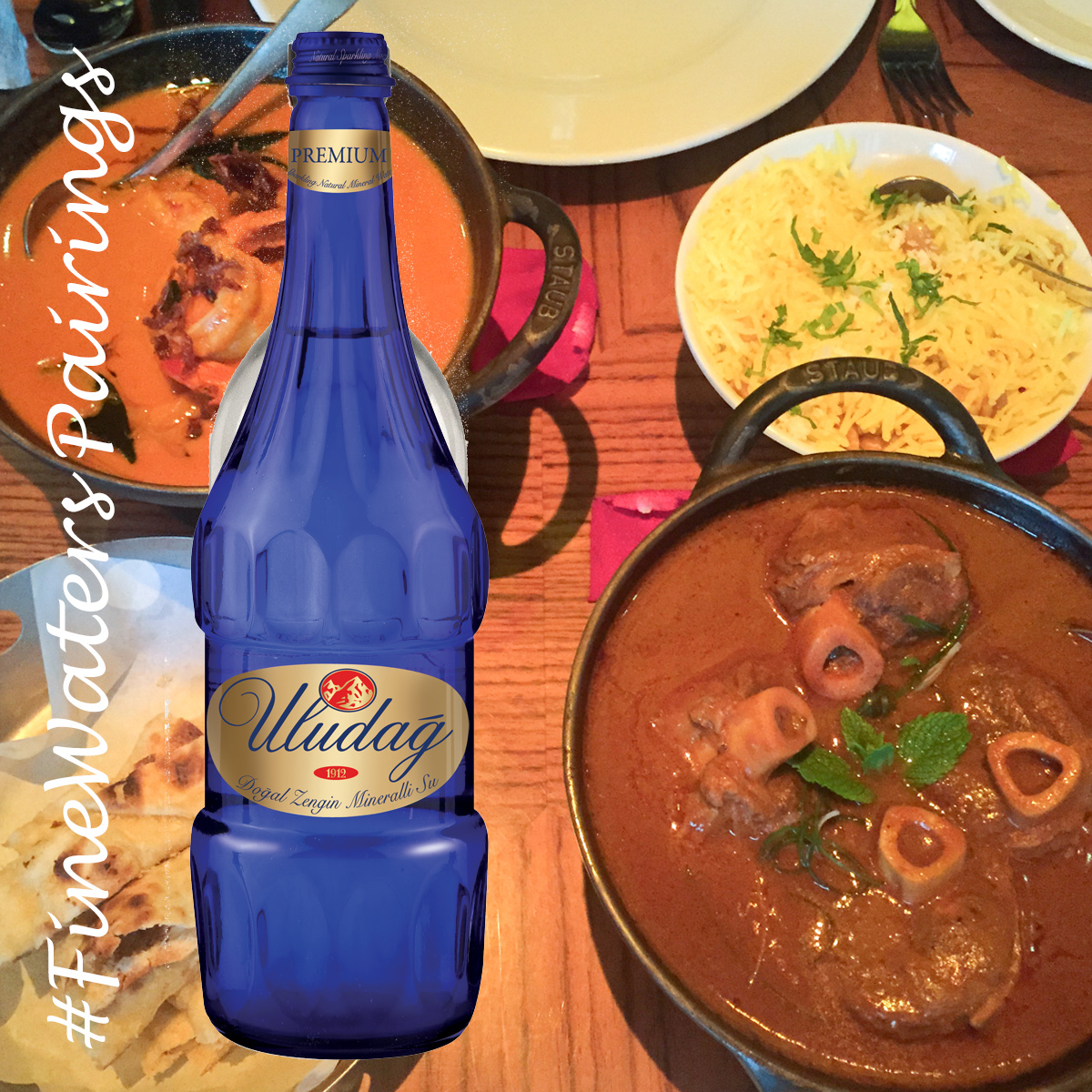 There is of course no Indian Food. It's a continent worth of regional diverse dishes. In general the cuisine is highly dependent on curries - stew-like dishes with meat, seafood, vegetables, or cheese incorporating particular spice mixtures. The most prevalent culinary style found outside of India is the Northern Indian cuisine. So matching waters with Indian food is very difficult but in general I like sparkling water and in dished like here from a classic London Indian restaurant like Veeraswamy a high Minerality. Uludag from Turkey would be a perfect example of such a water.
Awards