Waiākea Water Analysis:
| | |
| --- | --- |
| Balance | Still |
| Virginality | Superior |
| Minerality | Low |
| Orientation | Hint of Sweet |
| Hardness | Slightly Hard |
| Vintage |   |
| Carbonation |   |
|   |   |
| TDS | 83 mg/l |
| ph factor | 7.8 |
| Hardness | 23.6 mg/l |
| Nitrate | 0.38 mg/l |
| Calcium | 6 mg/l |
| Magnesium | 3 mg/l |
| Sodium | 6 mg/l |
| Potassium | 2mg/l |
| Silica | 44 mg/l |
| Bicarbonate | 34 mg/l |
| Sulfate | 4 mg/l |
| Chloride | 3 mg/l |
| | |
| --- | --- |
| Source: | Artesian |
| Location: |   |
| Country of Origin: | USA |
| Region: | Big Island, Hawaii |
| Place: | Kea'au |
| Established: | 2012 |
| Company: | Waiakea Hawaiian Volcanic Water  |
| Status: | Active |
| Web Site: | www.waiakeasprings.com |
| phone: | +1 855 924 2532 |
| email: | This email address is being protected from spambots. You need JavaScript enabled to view it. |
| Social Media: |      |
2,400 miles from the nearest industrial landmass and surrounded by 10 million square miles of ocean, Waiākea volcanic water originates in Hawaii through both snowmelt and rain on the pristine snowcapped peak of the active Mauna Loa volcano- one of the purest environments on Earth. Waiākea is then filtered through thousands of feet of porous lava rock before re-emerging at its source, located at the eastern base of the Mauna Loa volcano in a secluded area surrounded by rich and bio-diverse forest preserves.
This incredible environment and unique process gives Waiākea an award-winning tasting profile that has been embraced and loved by foodies everywhere for its distinctive taste and terroir .
Waiākea was founded in 2012 as the first Hawaiian volcanic water and triple bottom line premium water of its kind, adopting a category-leading platform of healthy, sustainable, and ethical/charitable attributes and initiatives.
Waiākea sought to create a resonating lifestyle brand that can inspire and create meaningful, positive change in a variety of ways. Our goal is to create a transformation within the bottled water, beverage, and greater CPG industry, moving away from singular profit and towards a triple bottom line model that emphasizes people and planet. 
Waiākea is the first ever U.S. bottled water to be awarded carbon neutral certification, and is the industry leader in sustainability through its many eco-initiatives. A significant amount of its revenue goes toward local community programs and non-profits, such as The Kama'aha Initiative, fostering education and environmental stewardship. Additionally, for every liter bought, Waiakea donates 1 week's supply of clean water to people in need in Malawi in partnership with Pump Aid.
#FineWatersPairings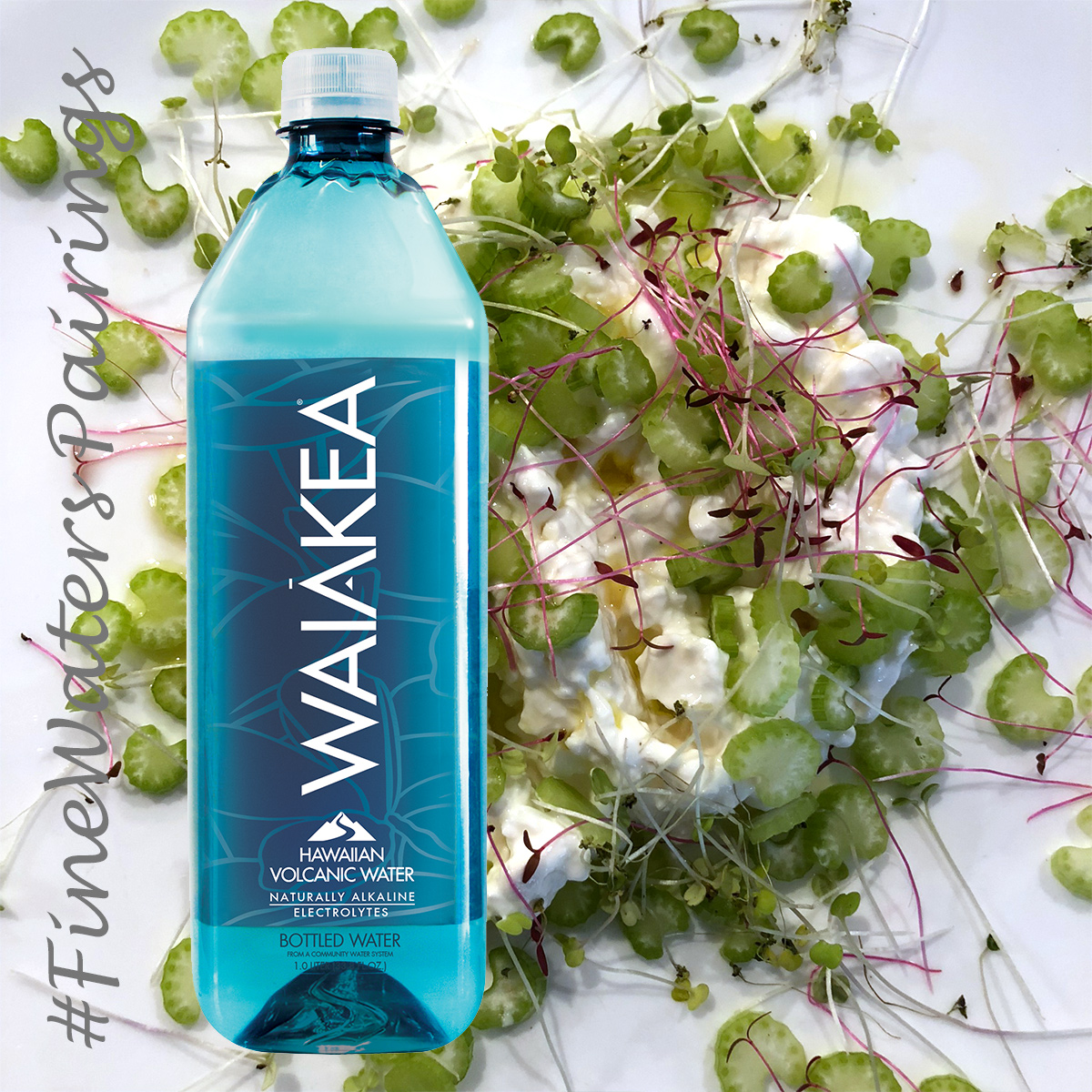 Quick homemade lunch consisting of artisanal large-curd cottage cheese, farm fresh celery, and micro-greens. Good olive oil and some balsamic vinegar. Easy but rewarding and best enjoyed with a rather soft, Low Minerality water like Waiākea.
Awards