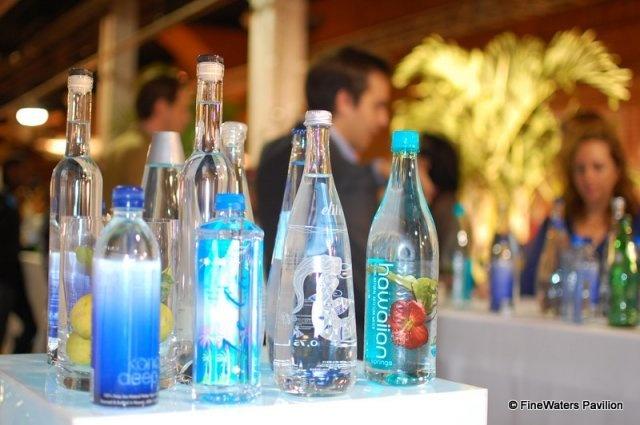 This was the third year of the show and it's most successful so far. Everybody felt that the show has now reached a maturity and gravity to pull a large audience. We had over 6.500 visitors to the event, a new record and a high number for such an exclusive event. Needless to say we are very happy, especially in this economy, and we feel very confident for future shows in an improved economical environment. The idea for the show was always to provide a stylish environment for foodies to explore and enjoy new trends in food, wine and premium water and to seriously sample and taste the different offerings. The FineWaters Pavilion has been an integral part to the show since interception and this year was especially rewarding, talking to a large and very receptive audience, introducing many to the concept of Premium Bottled Water and the Bottled Water Etiquette. We had 9 people serving water behind the counter and explaining the different sources, regions and taste experiences to our audience, many of whom have never experienced a water tasting. Thanks to Hawaiian Springs's PR, we also had success with media coverage. I am happy to report a very good article in one of the well read AOL food blogs: Slashfood - Meet the World's Water Sommelier
Here are some of the key concepts of our presentation:
Water is not Water
Water is not a commodity with uniform characteristics. Water is a natural un-processed product that reflects geology and origins. Many different sources create a wide variety of drinking experiences (spring, artesian, ice berg, rain, well, ...). Water has terroir in the same way as wine, chocolate, olive oil, and many other food & beverage products
Bottling Water: Conserving a Natural Product
The experience of drinking the water from the bottle should be as close as possible to drinking the water at the source. A gentle bottling of the water is the only way of sharing the source experience with consumers. Premium bottled water is unique and natural and the bottling process respects that.
Enjoying Water as a Natural Product
Bottled Water from a natural source is the next wine, it deserves attention, it can be matched with food and a bottled water etiquette applies. Every kind of water has its appropriate mode of delivery, for hydration purposes, tap and water fountains are a good source and for the epicurean experience, the perfect match could be a very special water.