Serra da Graciosa Water Analysis:
Balance
Still
Virginality
Superior
Minerality
Low
Orientation
Neutral
Hardness
Moderately Hard
Vintage
50 Years
Carbonation
 
 
 
TDS
180 mg/l
ph factor
7.85
Hardness
88 mg/l
Nitrate
0.1 mg/l
Calcium
24 mg/l
Magnesium
7.2 mg/l
Sodium
 
Potassium
1 mg/l
Silica
19 mg/l
Bicarbonate
130 mg/l
Sulfate
250 mg/l
Chloride
4 mg/l

Serra da Graciosa is a Member of the Fine Water Society
| | |
| --- | --- |
| Source: | Spring |
| Location: |   |
| Country of Origin: | Brazil |
| Region: | Parana - Southern Brazil |
| Place: | Morretes |
| Established: | 2001 |
| Company: | Empresa de Águas Pé da Serra Ltda. |
| Status: | Active |
| Web Site: | www.serradagraciosa.com.br |
| phone: | +55 41 3328 6867 |
| email: | This email address is being protected from spambots. You need JavaScript enabled to view it. |
| Social Media: |   |
The water is named after the Serra da Graciosa which is a section of the Serra da Mar chain of mountains that runs along the southeastern Atlantic coast. The source is located at the base of this range and is a very popular tourism destination. The Estrada da Graciosa is a road from colonial times connecting the state capital to the Atlantic shore.
Founded in 2001, the company is located in Morretes, Parana State - Brazil, approximately 50 km from Curitiba (the state's capital). The city has an area of 620 sq km and more than 90% of it is a protected ecological sanctuary that belongs to Serra do Mar and is covered by the Atlantic rain forest, where the precipitation (2.500 to 3.000 mm per year) is larger than in the Amazon. These precipitations result in a high quality mineral water that penetrates through granite formations reaching the extraction point after 50 years of filtration and mineralization process that creates a pure and rich in keys minerals.
Therapeutic use of mud, mineral waters and steam is called crenotherapy and a study performed by Dr. Marcos Untura Filho, one of the best authorities on this matter found special properties in the water.
#FineWatersPairings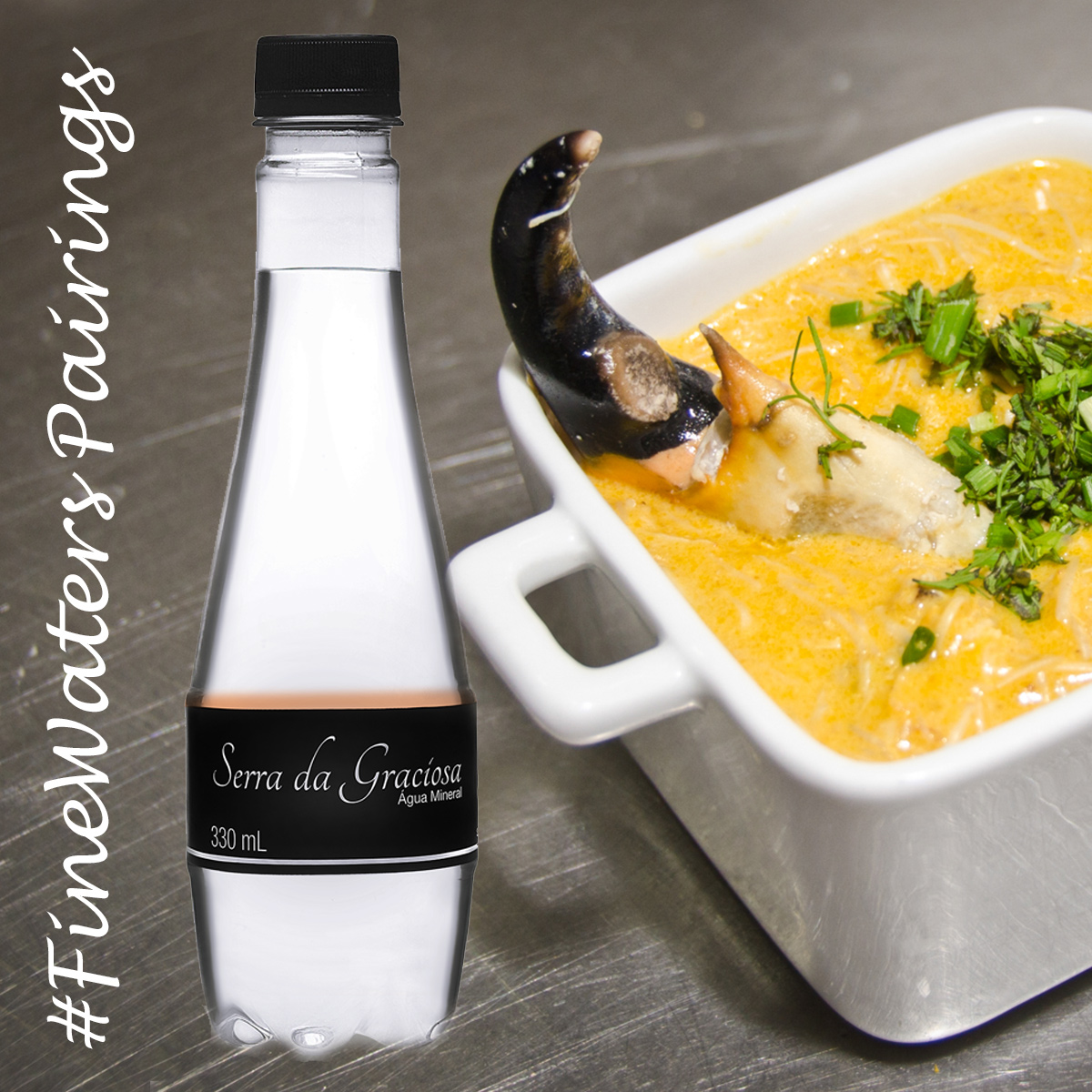 Stone Crab Bisque is a beautifully satisfying seafood dish and I would not like the water to distract. A soft, neutral, Low Minerality water with some character like Serra da Graciosa would pair very well. with this dish.
Awards