SAVU Water Analysis:
Balance
Still
Virginality
Superior
Minerality
Low
Orientation
Hint of Sweet
Hardness
Moderately Hard
Vintage
 
Carbonation
 
 
 
TDS
120 mg/l
ph factor
7.8
Hardness
63 mg/l
Nitrate
0.14 mg/l
Calcium
20 mg/l
Magnesium
3 mg/l
Sodium
11 mg/l
Potassium
0.5 mg/l
Silica
33 mg/l
Bicarbonate
104 mg/l
Sulfate
5 mg/l
Chloride
8 mg/l

SAVU is a Member of the Fine Water Society
| | |
| --- | --- |
| Source: | Artesian |
| Location: |   |
| Country of Origin: | Fiji |
| Region: | Viti Levu |
| Place: | Namosi |
| Established: | 2016 |
| Company: | Icon Global Trading Inc. |
| Status: | Active |
| Web Site: | www.savuwater.com |
| phone: | +1 631 552 5800 |
| email: | This email address is being protected from spambots. You need JavaScript enabled to view it. |
| Social Media: |     |
The source of SAVU artesian lies deep below the tropical rainforest covering the Namosi Mountains on Viti Levu, the main island of Fiji. Over 4 meters of rain falls each year in the region and slowly filter through the aquifer over many years. The artesian water emerges under its own pressure and is bottled in PET at the source. The entire water catchment area for SAVU artesian aquifer is isolated from any and all human activity and is very remote and inaccessible tropical rain forest.
The source is monitored on a daily basis to ensure high quality and safety. The water is micron filtered to remove any particulate matter and UV and silver treatment is applied to ensure food safety compliance. The water meets all the FDA and ABWI standards.
Savu is available in 500ml PET with a 1L PET presentation on the way. The water shows the classic soft and neutral taste of a water from the pacific islands with the characteristic presence of high silica levels and a low Minerality.  
#FineWatersPairings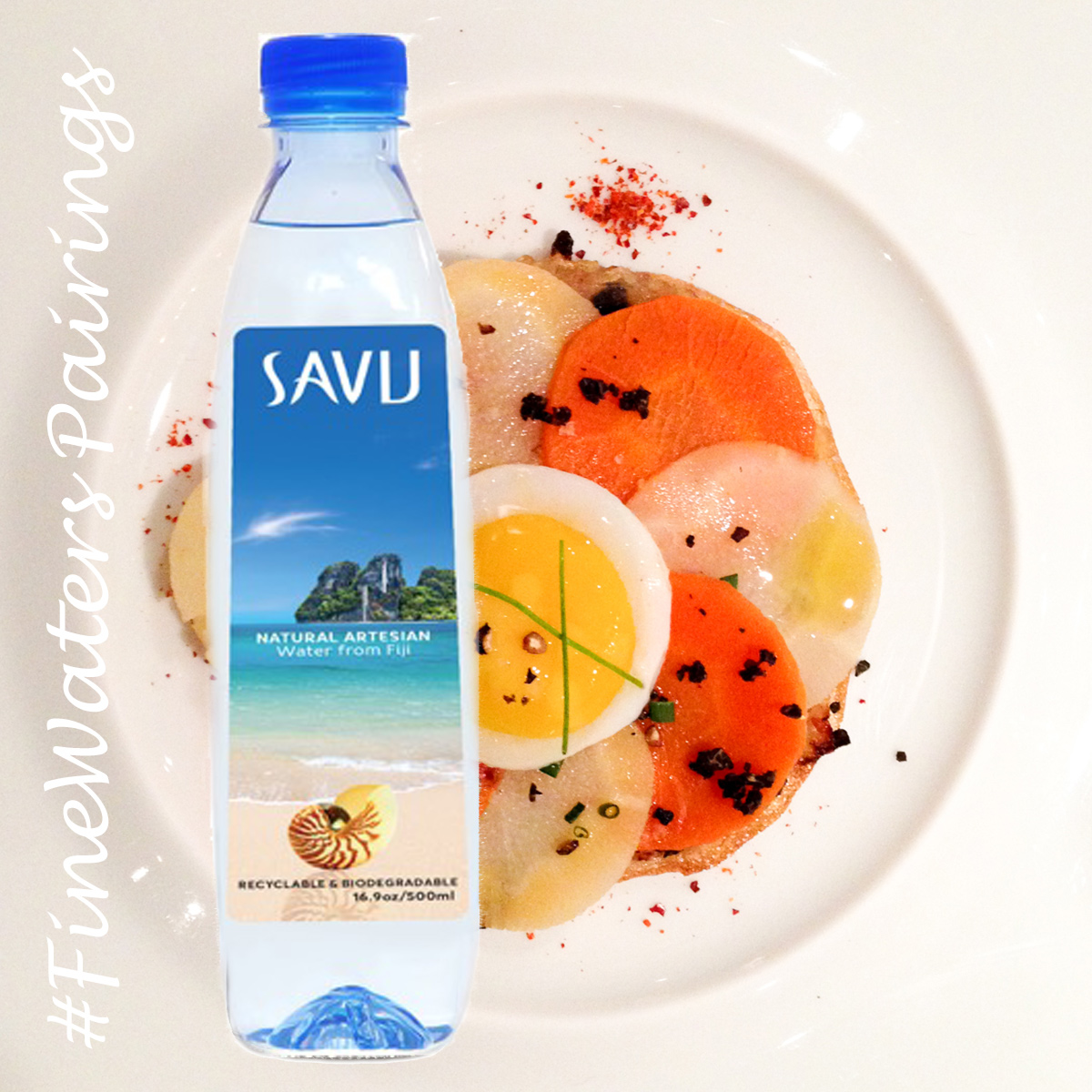 White onion tart with bacon, quail egg and vegetable confit is a subtle dish with a great texture. I would like the water to not challenge the dish and would prefer a Low Minerality still water with moderate hardness and some character like Savu from Fiji.
Where to Buy:
Awards
A large panel of judges from 15 of the most prestigious European culinary and sommelier associations recently did a blind taste test of Savu water at the International Taste & Quality Institute (iTQi) based in Brussel and awarded Savu the Superior Taste Award with three gold stars.