RAW Forest/Hills Water Analysis:
Balance
Still, Effervesent
Virginality
 Superior
Minerality
 Medium
Orientation
 Neutral
Hardness
 Very Hard
Vintage
 
Carbonation
 Added
 
 
TDS
320 mg/l
ph factor
7.3
Hardness
 224 mg/l
Nitrate
 0.01 mg/l
Calcium
 80 mg/l
Magnesium
 6 mg/l
Sodium
 21 mg/l
Potassium
 2 mg/l
Silica
 22 mg/l
Bicarbonate
 155 mg/l
Sulfate
 25 mg/l
Chloride
 31 mg/l
 
| | |
| --- | --- |
| Source: | Artesian Spring |
| Location: |   |
| Country of Origin: | Denmark |
| Region: | Aabenraa |
| Place: | Krusmølle Kilde |
| Established: | 2016 |
| Company: |  fine nordic ApS  |
| Status: | Discontinued |
| Web Site: |   |
| phone: |   |
| email: |   |
| Social Media: |   |
RAW Forrest/Hills is one of Denmark's oldest sources and is located near Aabenraa. Since Duke Hans the Elder founded Krusmølle in 1561, the spring of water has created life and prosperity in the region. The spring is unique because the water rises naturally and therefore is not to be pumped up from the underground. The water comes from very deep natural water resservoirs in an area that has not been affected by agricultural operation.
Krusmølle spring is the taste of the unspoiled Denmark.
#FineWatersPairings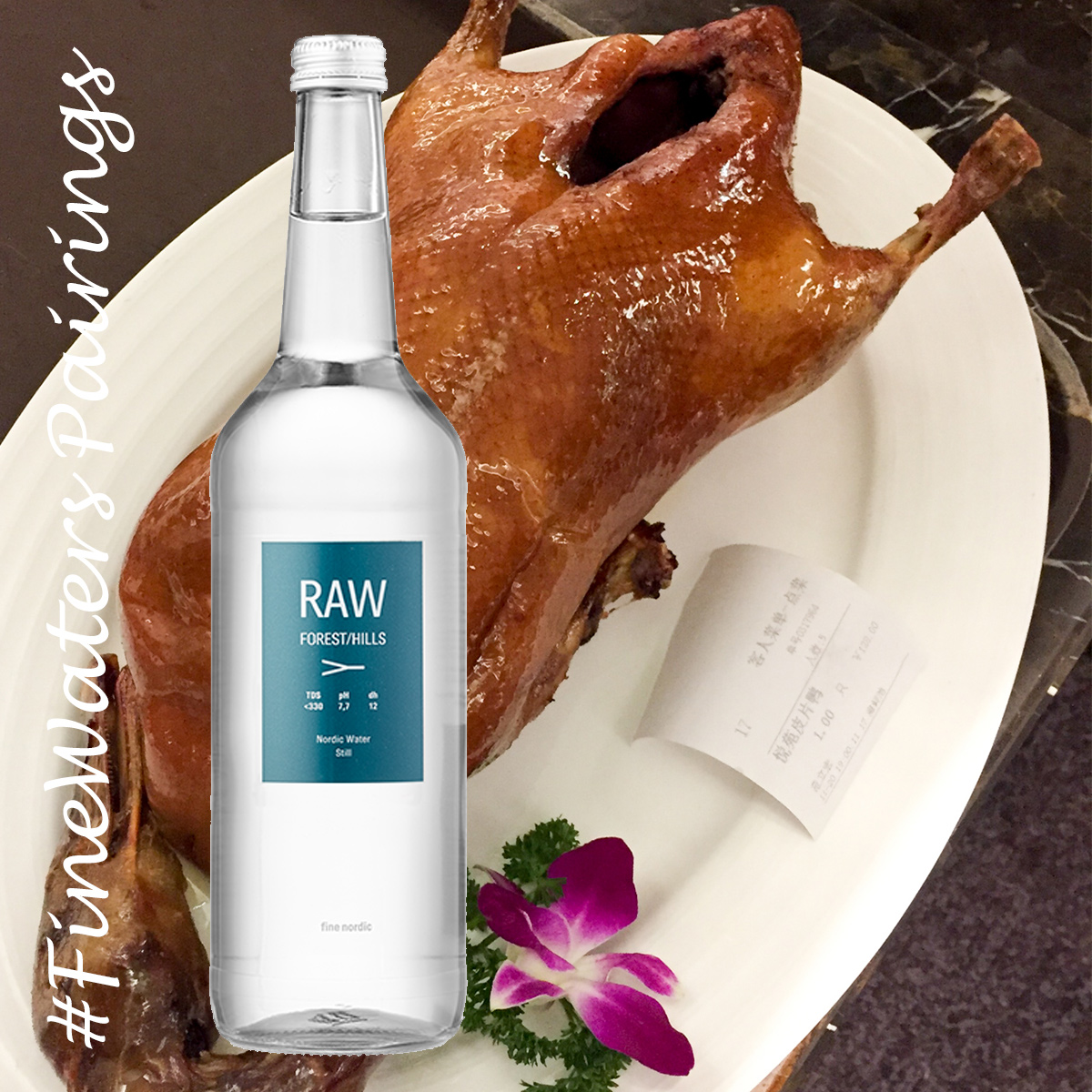 Shanghai style duck is like the original a very theatrical and slightly sweeter affair with contrasting mouthfeel and quite tasty. I have eaten it many times and usually it ends with a rather bland (cleanse palate) soup. Anticipating the soup I ate more of the duck and thinking to skip the soup. To everybody's surprise the leftover duck pieces were served flash deep fried in duck fat. I and my Chinese hosts have never seen this before but it was a revelation. The last image in this series is probably one of the best things I have ever eaten #MinyaHotelShanghai . For this dish I would like a fairly low Minerality water with neutral pH like #finenordicwater and I also would enjoy the minimalistic design on this visually already very busy table.