nakd Water Analysis:
Balance
Still
Virginality
Superior
Minerality
Low
Orientation
Neutral
Hardness
Soft
Vintage
1,800 years
Carbonation
 
 
 
TDS
118 mg/l
ph factor
7.2
Hardness
13.4 mg/l
Nitrate
0.32 mg/l
Calcium
2.8 mg/l
Magnesium
1.6 mg/l
Sodium
10.1 mg/l
Potassium
3.5 mg/l
Silica
81.5 mg/l
Bicarbonate
 
Sulfate
 
Chloride
 

nakd is a Member of the Fine Water Society
| | |
| --- | --- |
| Source: | Artesian |
| Location: |   |
| Country of Origin: | New Zealand |
| Region: | Bay of Plenty |
| Place: | Whakatane |
| Established: | 2013 |
| Company: | Infinity Lifestyle Group |
| Status: | Active |
| Web Site: | www.nakdwater.com |
| phone: | +65 9820 6002 |
| email: | This email address is being protected from spambots. You need JavaScript enabled to view it. |
| Social Media: |     |
nakd water is said to begin its journey at the Antarctic. The Vapour travels across the ice-cold South Pacific Ocean before falling as rain, high in the pristine North Island Ranges of New Zealand. From here it seeps below the surface of the earth where it undergoes at least 50 years of natural filtration through porous volcanic rock that organically enriches the water. It then collects underground in the Artesian Aquifer before being captured under its own pressure from 60m below the ground.
The concept for nakd's personality is of an indulgent water experience with a rebellious twist. Corner stones of the brand are: Purity, Fashion, Fun and Wellbeing. The SENSUALIST meets the MAVERICK.
#FineWatersPairings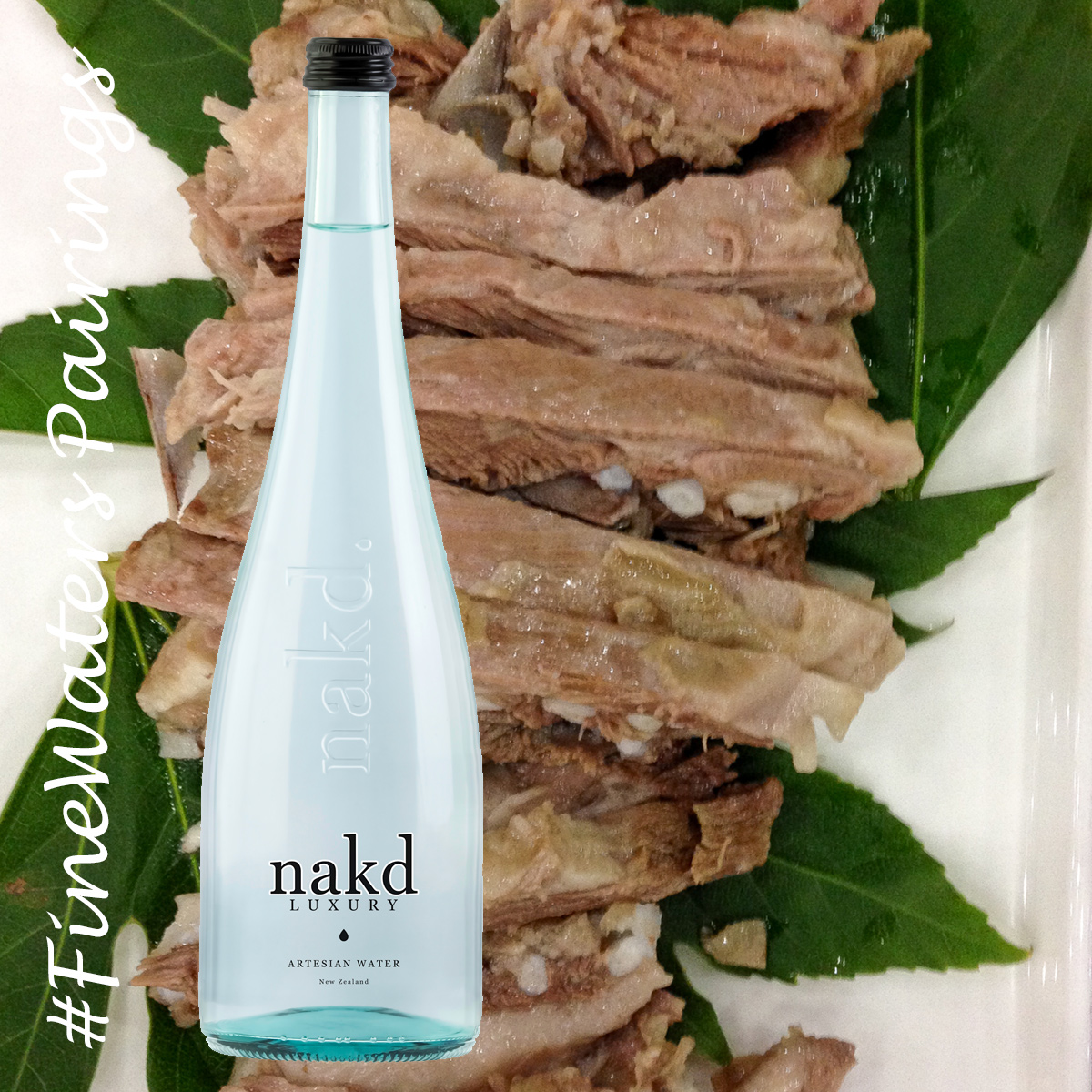 Among one of the best things I have probably eaten in my life is this plain looking steamed lamb dish in a Beijing restaurant focusing on the Muslim cuisine of western China. I would usually pair lamb with a much more substantial water but this lamb was special. Very fine and subtle taste of every grass and piece of botanical the free roaming animal has eaten recently. For this dish I would love a soft, Low Minerality still water with a high silica level like nakd from New Zealand.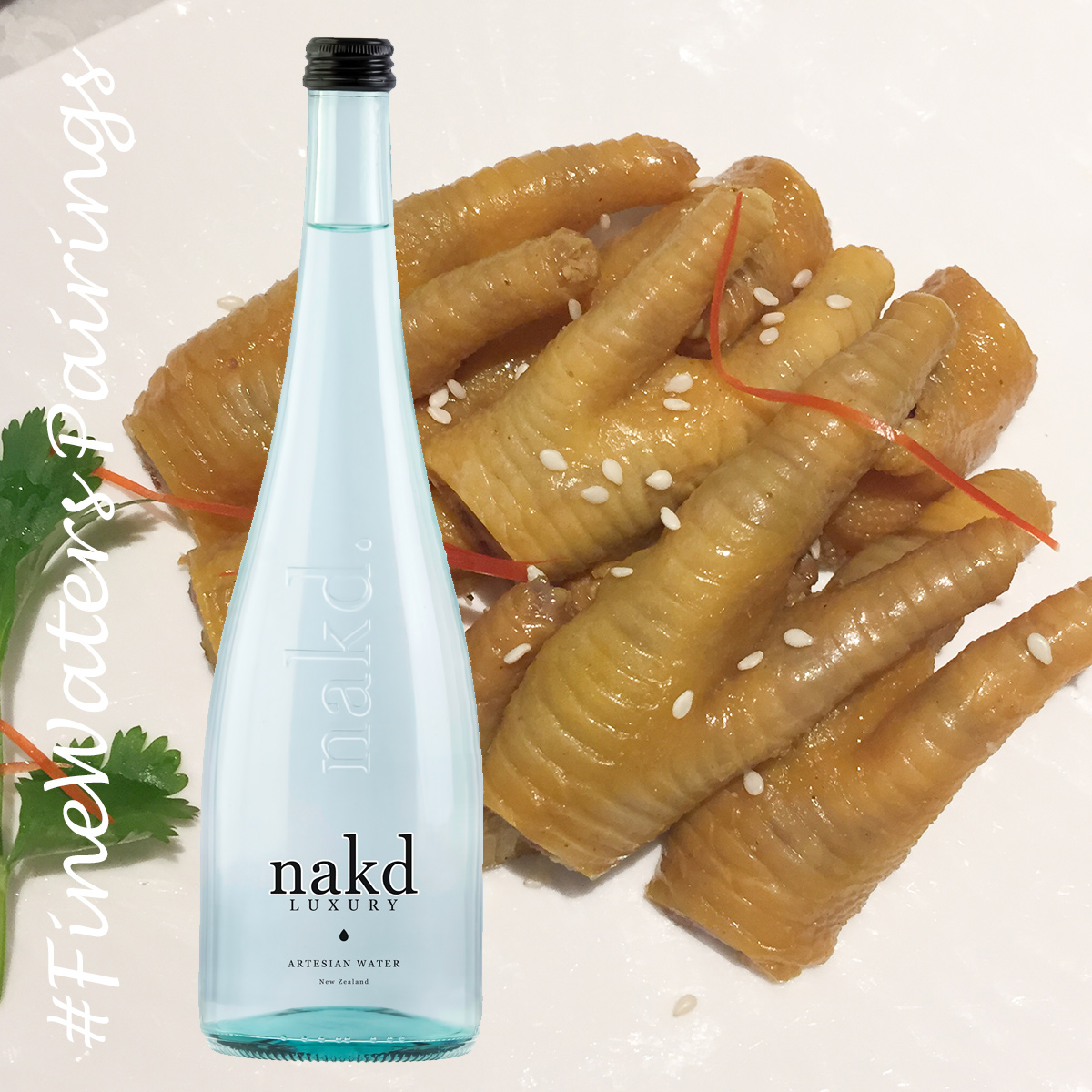 Chicken feet are used in several regional Chinese dishes and they can be served as a beer snack, cold dish, soup or main dish. The chewy consistence is very pleasant one you get over the fact that they look like little hands. The taste depends on the preparation and can range from subtle to spicy. With this particular dish I would prefer a low Minerality still water with a high silica level like nakd from New Zealand.
AWARDS
Gold Best Packaging 2016 - Berkeley Springs
Silver Best Packaging 2015 - Berkeley Springs
Silver Best Packaging 2015 - NZ design Awards
4th Best Sparkling 2014 & 2016 - Berkeley Springs