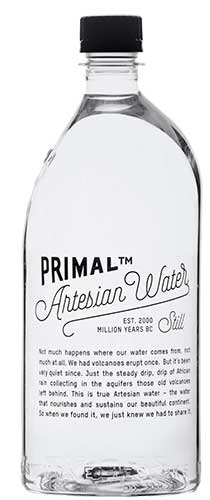 Primal Water Analysis:
Balance
 Still
Virginality
 Very Good
Minerality
 Medium
Orientation
 Hint of Sweet
Hardness
 Very Hard
Vintage
 
Carbonation
 
 
 
TDS
320 mg/l
ph factor
7.7
Hardness
419 mg/l
Nitrate
1.8 mg/l
Calcium
89 mg/l
Magnesium
49 mg/l
Sodium
4 mg/l
Potassium
1 mg/l
Silica
00 mg/l
Bicarbonate
00 mg/l
Sulfate
4 mg/l
Chloride
6 mg/l
 
| | |
| --- | --- |
| Source: |  Artesian |
| Location: |   |
| Country of Origin: |  South Africa |
| Region: | North West Province |
| Place: | Monelieschke Farm |
| Established: | 2015 |
| Company: | Monelieschke |
| Status: | INACTIVE |
| Web Site: | www.primalartesianwater.com |
| phone: | +27 82 900 3214 |
| email: | This email address is being protected from spambots. You need JavaScript enabled to view it. |
| Social Media: |   |
Primal is artesian water from a pristine farm in a remote district in the North West province of South Africa. The dominant geology of the region is ancient dolomite caves. It is an extension of the famous and nearby "Cradle of Humankind" where many paleoanthropological discoveries of world importance have been made. The land is primarily pristine bushveld, one of the few areas on which disease-free rare game can be raised, because of the unspoiled nature of the environment. There is no significant human habitation in the area; the nearest settlement was called Ottoshoop (Otto's Hope).
Primal is artesian water from an underground aquifer, naturally sealed from any exposure to airborne or other contaminating elements. The limestone and dolomitic geology of the area allowed the water to slowly acquire a Medium mineral content and desirable pH factor of 7.7. The water is bottled at the source in a ultra-modern bottling plant is located directly above the artesian well.
The Primal brand was developed as a synthesis of the remote location and the high quality of the water. So far, Africa has not produced a top-quality water with global appeal, and Primal should fill that space.
#FineWatersPairings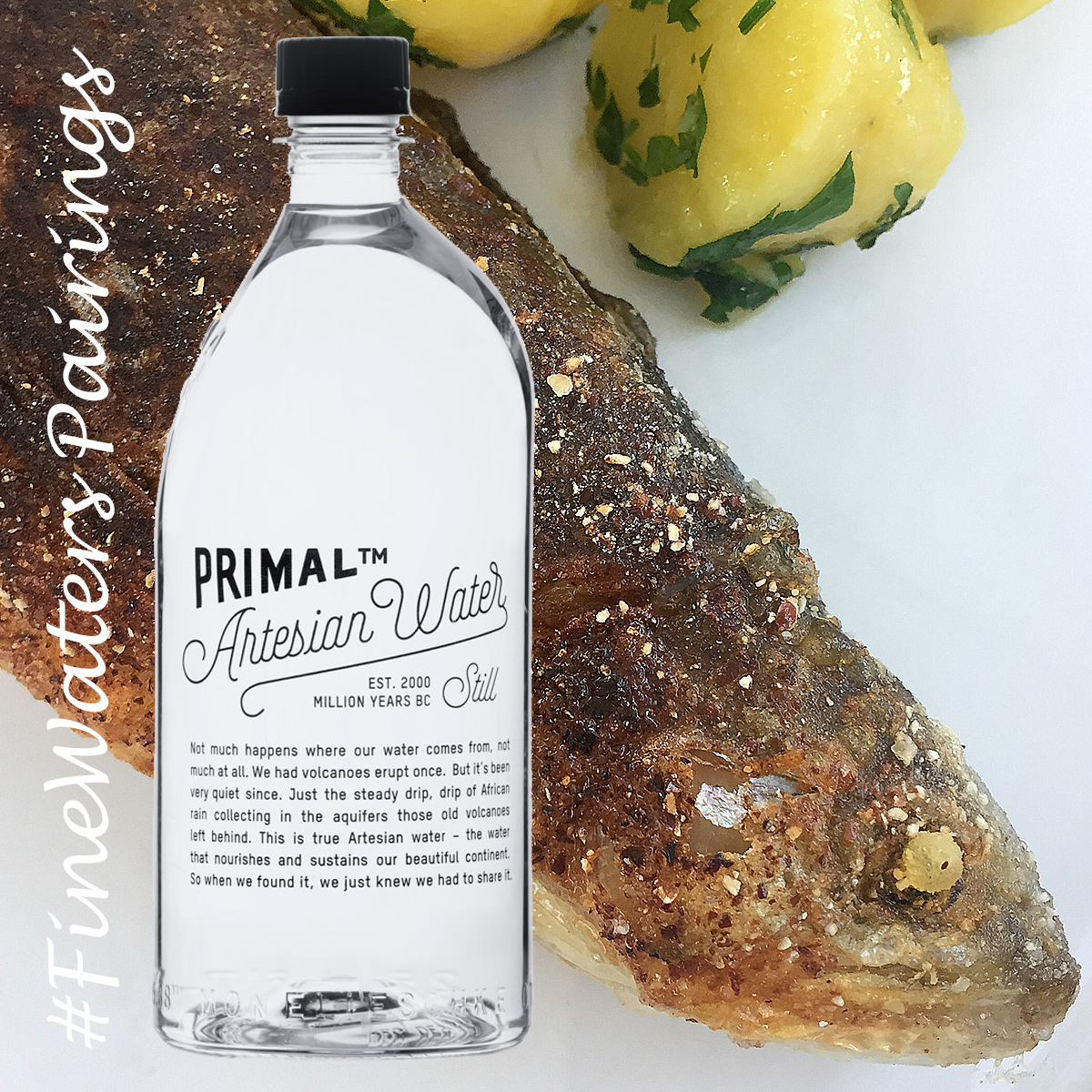 A simple dish of pan fried lake trout with new potatoes can be divine like in this example from Altaussee, Austria. The subtle fish taste and the crunchy skin a perfectly matched with a Medium bodied still water like Primal from South Africa.
AWARDS