Solé Water Analysis:
Balance
Still & Classic
Virginality
Very Good
Minerality
Medium
Orientation
Hint of Sweet
Hardness
Very Hard
Vintage
 
Carbonation
Added
 
 
TDS
387 mg/l
ph factor
7.4
Hardness
 371 mg/l
Nitrate
2.5 mg/l
Calcium
105 mg/l
Magnesium
27 mg/l
Sodium
2.6 mg/l
Potassium
1 mg/l
Silica
40 mg/l
Bicarbonate
430 mg/l
Sulfate
14 mg/l
Chloride
6 mg/l
 
| | |
| --- | --- |
| Source: | Spring |
| Location: |  Nuvoleno (Brescia) |
| Country of Origin: | Italy |
| Region: | Lombardy |
| Place: | Nuvolento |
| Established: |   |
| Company: | Fonte Sole |
| Status: | Inactive |
| Web Site: | www.solewater.com |
| phone: | +1 949 375 2946 |
| email: | This email address is being protected from spambots. You need JavaScript enabled to view it. |
| Social Media: |        |
Fonte Sole has been central to the community of Nuvolento, near Brescia in Lombardy, Italy since the independent family-operated business was founded in 1906. Many legends are associated with the ancient Source, known since Roman times, and near where Benedictine monks founded a monastery. The well-balanced group of minerals in Sole is derived from a natural filtration process as the water works its way through varying geological rocks and minerals to the underground and well-protected Source.
The Source is situated at the foot of the Brescian Pre-Alps that rise to the northeast of Brescia. The water from the Source emerges at "Via Antica Fonte" in Nuvolento and corresponds to the point at which the limestone-dolomite formation meets the alluvial deposits from the valley of the river Chiese. The delicious tasting natural mineral water is celebrated in particular for its very low sodium content and for being classified as 'oligo-minerale' (naturally low in minerals). It is an alkaline water that is clean tasting and slightly sweet. The sparkling has a soft and gentle carbonation.
The Bodei family produce their water only in glass bottles and have a close working relationship with many of the world's leading hotels and fine restaurants. The Sole range of bottle presentations includes :
In Green Glass :
L'Italiana – a traditional Italian bottle with a contemporary edgy appeal 
In Clear Glass :
Deco – a fluted bottle with stylish presentation
Arte – an elegant and graceful super premium bottle
The Sole Legend
Known since Roman times and famous for its health-giving properties during the middle ages, the history of Sole is rich with story and folklore celebrating the famous source.
Legend has it that a pagan sun goddess once stood at the site of the Sole source located in the foothills of the mountainous Alpine region of Italy. Roman soldiers would stop to fill their water vessels at the source before going out to conquer new lands. The pure water source became known as Sole, named for the sun itself. 
Where to buy
#FineWatersPairings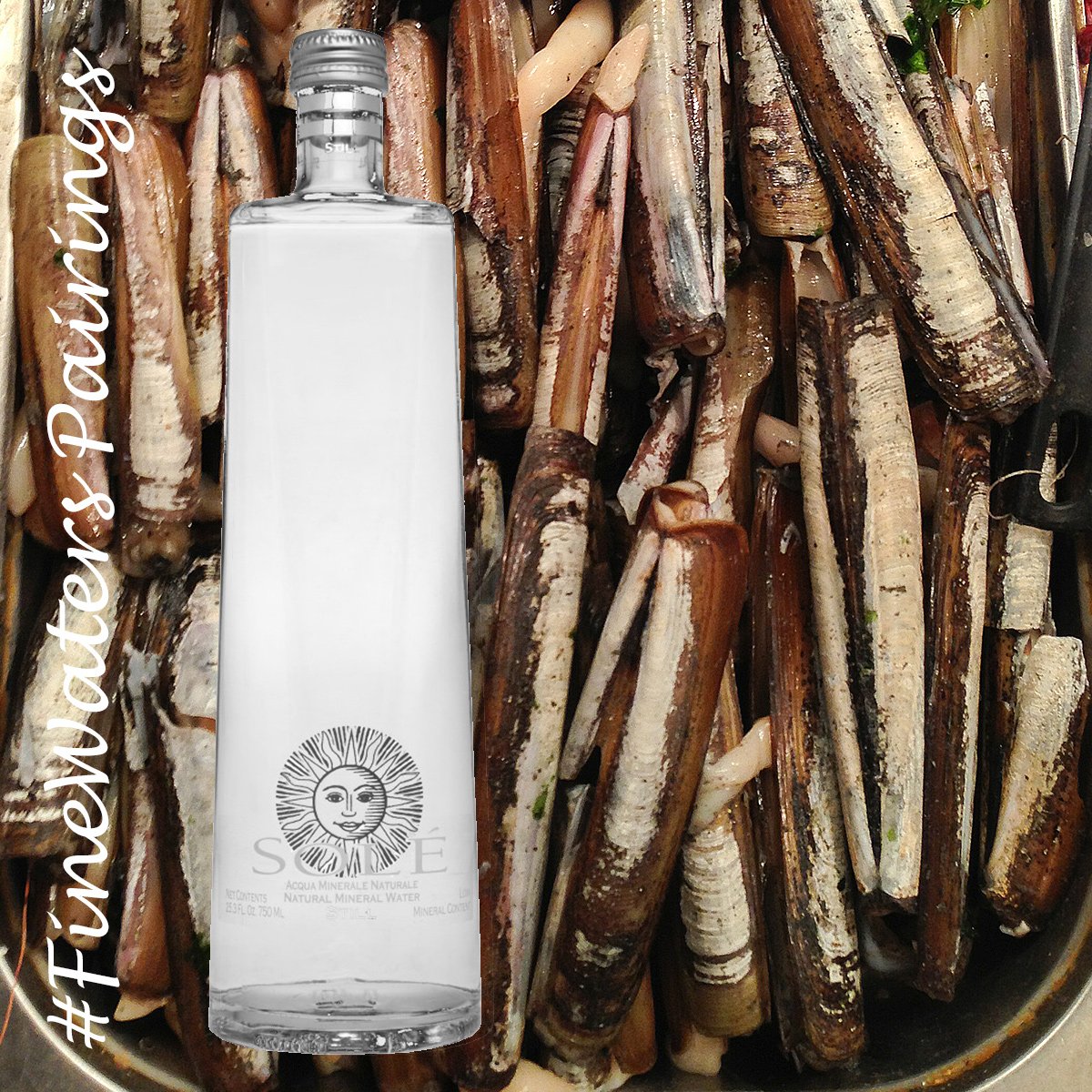 Razor clams are one of my favorite seafood and with a strong flavor and interesting texture I would recommend a still water with mediaum Minerality like Sole from Italy.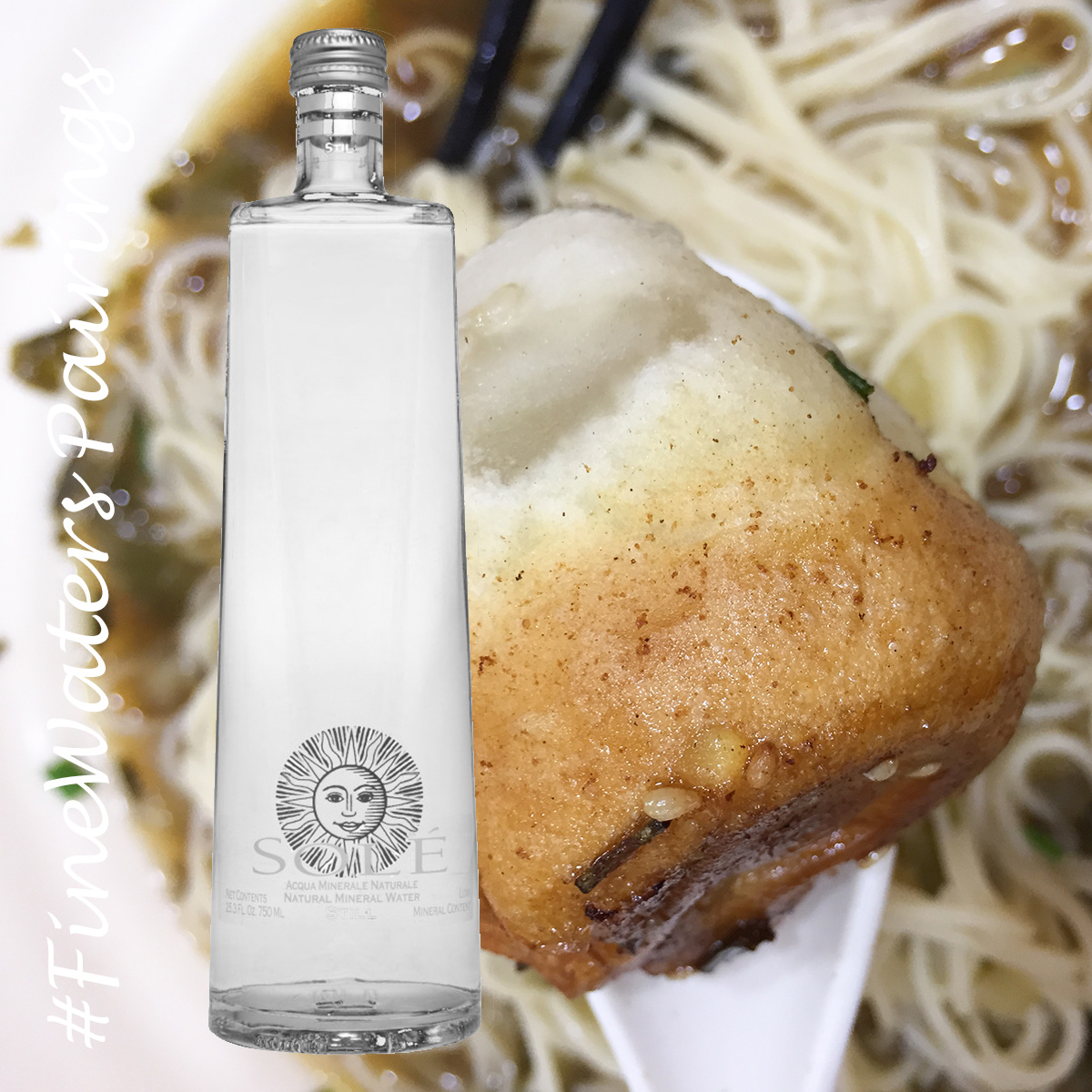 Shengjianbao dumplings is one of the most dangerous dishes for westerners in Shanghai. Steaming hot soup in a fried dumpling. The only way to avoid injury is biting a small hole in the top and slurping out the soup before tackling the pork filling. A medium Minerality still water like Sole is the best way to enjoy this dish
Awards